In my discussions on the phone with many prospective brown bear hunters, the same topics seem to come up often.  So, based on my personal experiences and many talks with our outfitters, I'd like to share some thoughts.
Brown vs. Grizzly Bear Hunts
There seems to be some confusion about defining a grizzly bear, brown bear, and Kodiak bear. While they are technically the same species, the Boone and Crockett club differentiates between grizzly bears and brown bears for record bookkeeping because brown bears get larger than grizzly bears. In the simplest terms, they define the location where brown bears live as being within 75 miles of the southern and eastern coast of Alaska (there is a specific description of boundaries, but the simplified version works for this discussion). Kodiak bears are brown bears that live on the Kodiak Island archipelago. Grizzly bears are found north of this 75 miles from the southern coast boundary, through the interior of Alaska, and to the arctic ocean.
Brown bears grow bigger because they generally have a much better diet rich in salmon and other marine life (think washed-up walrus and whales, etc.) compared to grizzly bears, who typically eat fewer salmon and eat mostly carrion, berries, ground squirrels, etc. As a result, grizzly bears have to work harder for their food. In addition, grizzly bears typically hibernate a few more months of the year than brown bears, who have a more temperate climate and can go into hibernation later and come out earlier. The combination of less hibernation time and better food sources makes brown bears generally larger than grizzly bears.
Rifle Set-ups
I often get asked what rifle set-up is ideal for Hunting Brown Bear. Like any gun discussion, this can be a polarizing topic, but in my experience and the dozens of guides I've spoken to, proper calibers for coastal brown bears start at .338. It is a prevalent scenario that after a hunter shoots a bear, it takes off into wet, thick alders, runs up a stream, or disappears in the lush, damp vegetation on the coast. Tracking a bear in these conditions is difficult. With long hair and lots of fat, usually only one bullet entrance and no exit hole, they don't bleed much externally. And it is pretty unnerving to be crawling on hands and knees through this stuff, knowing there could be a wounded bear close by. It would not be easy to defend yourself in a charge situation here. At times like these, you and your guide will wish you had a bigger bullet.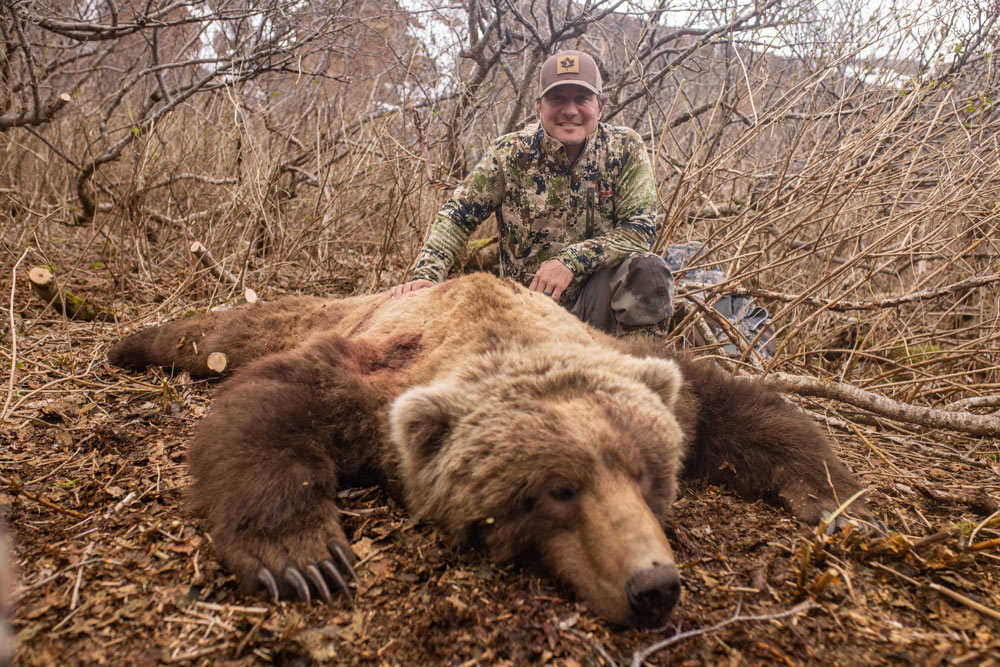 Brown Bears are mortal, and a well-placed first shot will do the trick. But it is ALWAYS advisable to keep putting lead in the bear until it is down or you don't have a shot at it. Also, before starting your hunt, talk to your guide to agree if they will shoot after your first shot and, if so, under what conditions. Some will shoot after you shoot, regardless of the situation, while others will only do so if the bear is coming at you. Others will adjust based on the situation and conditions. In any case, have that discussion, so you are on the same page. Remember, make your first shot count, and remember that the guides must do their best to ensure your safety.
I prefer bolt-action rifles of .338 calibers or larger. Quality, controlled-expansion bullets – such as Trophy Bonded Bear Claws, Nosler Partitions or Accubonds, Swift A-Frames, etc. work well for bears. I recommend keeping the first shot less than 200 yds unless you are sure you and the guide can get several shots in the bear (such as it's on a wide open snow-covered bowl). Again though, be sure you can make the first shot count.
Scopes should be variable power that can turn down to a low magnification – 1X, 2X, or 3X for low power magnification. The upper magnification can be your choice. Always keep your scope at low power and only turn it up if needed. In a bear charge or close-range situation, you will be glad your scope is on a low-power setting. I also recommend lighted reticles – you will be hunting in cloudy, foggy, low-light conditions at the beginning and end of the day, and the bears are dark-colored. The lighted reticle helps ensure proper shot placement.
Sight your rifle in for zero at 200 yards. For most brown bear calibers, you will also be at 0 at around 35-40 yards, which is perfect for that close-range shot. You will be high at 100 yards and can easily adjust your hold to 300 yards. My brown bear gun is a 375 H and H CZ 500 bolt action rifle with a Leupold VX-6 2 X 12 scope shooting 250 grain Federal Trophy Bonded Bear Claws. It's a perfect brown bear gun out to 300 yards.
Spring vs. Fall Brown Bear Hunts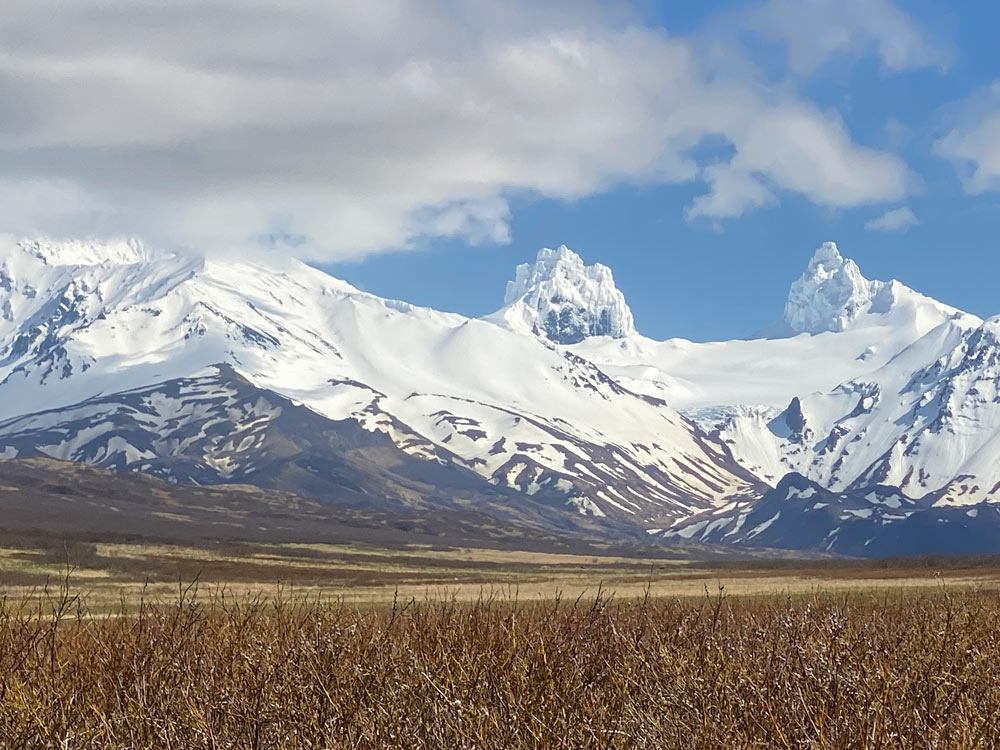 Here are my thoughts on this topic. I'm sure others will have different views, but hear me out. Outfitters across Alaska take giant bears in the spring and fall seasons. However, spring hunts usually produce more top-end bears (10-plus footers, true giants) than fall hunts. Two main reasons for this – the rut takes place in the spring, so the big boars are slightly less wary and are cruising and looking for love and letting their guard down, and there is generally less vegetation and leaves on bushes making visibility better in the spring. We see slightly fewer bears in the spring because they continue to emerge from their dens throughout the season. Sometimes their coats can show signs of rubbing, but generally, coat quality will be good.
In the fall, bears concentrate around food sources such as streams choked with spawning salmon or ridges loaded with wild berries. Hence, we tend to see more bears on the fall hunts. You will have to pick through more sows with cubs and smaller boars to find that trophy boar. Coat quality is generally excellent, as bears will have grown a new coat over the summer in preparation for the upcoming winter. Fall is also a great time to combine other species with your hunt – moose, caribou, and sheep come to mind depending on where you are hunting.
For both seasons, the most productive times are the evening right before sunset and in the mornings. Of course, mid-day can be slower, but we recommend hunting every minute of daylight available to increase your chances of crossing paths with that big boar.
Weather Considerations
Light rain and wind will generally not hamper bear movement, but heavy rain and exceptionally high wind will. Bears will lie down in a thicket in these conditions. However, game movement will pick up once the weather breaks, and your chances to spot a trophy bear are best on the days after inclement weather.
Speaking of weather, in all areas of Alaska where you can hunt brown bears, expect about half the days to be "lost" due to weather. By this, I mean lots of rain and wind, maybe snow. On some hunts, the weather can be good; on others nasty. It's all part of the experience. A good rule of thumb is to prepare mentally for crappy weather every day of your hunt and consider any wind-free or sunny days a significant bonus. Dress appropriately for these conditions – good rain gear and insulation layers are necessary. I've found that a cheap ATV cover makes a great addition to your pack – you can crawl in it with your gear and stay dry while glassing all day for that bear.
Be patient with your pilot as well. Often these hunts involve flying in small bush planes, such as Piper Super cubs, and weather delays are a real possibility. Pilots have a strong desire to keep their schedule, but if they say it's too dangerous to fly, it really is. For these reasons, if your hunt involves bush flights, I always recommend leaving a few days at each end of your hunt for delays.
Hunting Methods for Brown Bear
Hunting methods can vary quite a bit from hunt to hunt. It helps to have a hunting consultant in your corner to sort this out. You can be matched up best with an outfitter and type of hunt based on the discussion with your consultant regarding the trip.
Hunt methods can vary, but here are a few of the more common ways to hunt brown bears:
Baited hunts – level of physicality is low, and the hunter needs the patience to sit long hours to maximize time in the blind to harvest your bear.
Snowmobile-based spring hunts – you are trying to catch boars just emerging from their dens in the mountains. Snowmobile riding experience is essential on these hunts.
Boat-based hunts – have some of the most excellent accommodations as you will stay on a DRY boat at night and generally have very nice meals. You will also typically see lots of marine wildlife. These hunts usually take skiffs to shore after a target bear is spotted. Stalks will generally be pretty short (less than ½ mile), and these hunts are typically suitable for almost anyone.
Spot and stalk hunts – are almost always fly-out remote hunts and can be physical. Sometimes the hunt will take place out of a base camp, but most often, it will involve a fly-out to a remote spike camp which is almost always a tented set-up with mostly freeze-dried food. Depending on the outfitter and location, these hunts involve a lot or just a little hiking. These hunts include finding an excellent glassing point close to camp, in productive valleys, or overlooking rivers or feeding sources, where you will glass until a good bear is spotted. Bears are not tolerant of human scent, and glassing from one spot leaves the most negligible scent impact on an area. Once a bear is spotted, you will make the final stalk.
Summary
No matter the level of physicality you desire, type of accommodations, trophy expectations, time of year, or method of hunting, give us a call, and we will be happy to discuss brown bear hunting with you and help you pick the correct brown bear hunt of your dreams.