I often get asked by our hunters about gear lists. For many, a brown bear hunt is a once-in-a-lifetime hunt, and these hunts generally take place in coastal Alaska, where the hunt locations are very remote and the weather can be challenging. Having what you need in the field is essential. It's also important not to bring everything, including the kitchen sink, as most of these hunts require bush flights, and these flights have weight restrictions. I will share my personal gear list for coastal brown bear hunts. This list has been refined over the years from my hunting experience and discussions with several brown bear guides we work with. This blog should give you a good general idea of the gear needs. However, after booking a specific hunt, always check with the outfitter to see if any particular items are needed for their specific hunt, camp location, time of year, etc.
Weapon Items (assumes you are using a rifle. You die-hard bowhunters will know what you need.)
Rifle with sling – I get asked often about recommended calibers for brown bear hunts. Remember – these bears are extremely big, tough, and live in a wet environment with thick cover, such as impenetrable alder patches. One time, we were tracking a client's wounded bear in an alder thicket. We were crawling on hands and knees through the thicket, visibility only about 10 feet with pouring rain and 60 mph gusts. If you are ever in a situation like this, you will wish you had a bigger gun. I recommend .338 cal minimum for the coastal brown bears and .375 preferred. Use controlled expansion bullets in the 220-300 grain class. Scopes should turn down to at least 3 power, if not 1 or 2, and lighted reticles are a big plus. Dark bears in cloudy, wet, dusky conditions can make it hard to see crosshairs, and you want to make that first shot count. I personally use a .375 H and H with 250 grain Federal Trophy Bonded Bear Claws and a Leupold VX-6 2×12 scope.
40 rounds of ammo – You will generally only shoot a few rounds to check zero on arrival, but if you have a significant scope issue, the extra rounds will come in handy. On that note….
Sightmark Universal laser boresighter (green laser) – I carry this device with me on all hunts. It costs about $80 (the red one is about $40, but it's very hard to see the red laser when it is sunny out. The green one is very easy to see in the daytime). This device has a tapered magnetic plunger that can be placed in any gun's muzzle, from all rifle calibers to shotguns. It is very repeatable. Once my guns are sighted in, I make a card for each gun. The method that I follow is to insert the bore sighter into the muzzle with the writing on the bore sighter facing up (you can do it any orientation, just do it the same way every time), turn the scope to low power, and point the boresighter to an object at 20 yards. From there, I can see where the laser shows on the scope crosshairs. I make a card drawing of where that is exactly on the crosshairs. You can repeat this process several times and find that the laser shows in the same spot every time on the crosshairs. You can use this boresighter on all your guns, so you only need one. Having this boresighter gives you some nice advantages. If you cannot check your gun's zero before your hunt starts, you can use the boresighter to see if your scope has been knocked off. If you take a fall on the hunt, you can check it. Worst case, if you have to re-mount your scope, you can use the boresighter to get close and avoid burning up tons of ammo (still do final tuning, of course). This boresighter is very light but great to have in camp if needed.
Rangefinder + Spare battery – Always bring your own. Often, the guide will have one, but not always.
Gun cleaning kit, lube oil, cloth, allen wrench for scope, bore snake, tape for muzzle – Anything you need to keep your gun in working order or even re-mount the scope. Coastal environments are tough on guns; plan to wipe down your gun daily and keep it lubed up (salt spray can rust a gun within hours). Keep tape over the muzzle to keep debris out of the barrel – it will not alter the bullet's point of impact. The gasses from the shot will blow the tape off the barrel before the bullet exits.
Paper Target and earplugs – Handy for checking your guns zero, earplugs can also come in handy while sleeping in the tent if a hunting partner snores or during occasional times when the wind is howling, and the tent is making lots of noise.
Hard gun case with tag and locks – Needed due to TSA regulations for flying with a rifle. Your gun case will need to be locked. I use TSA locks if a TSA agent needs to get in your case and you are unavailable. I use a Tuffpak 1050 Gun Case Padlock Version – it's very sturdy, can hold up to 3 guns, does not look like a gun case, and you can also put quite a bit of gear/clothes in it and remain at 50#.
Ammo case with tag and locks – Airline regulations require ammo to be in a separate locked case. Sometimes, the gate agent will let me keep this in my gun case. Other times, they make me put it in my checked duffle bag. Either way, have your ammo separate and in a locked case. It must always be checked and cannot be in a carry-on bag. I use the Tuffpak Ammo box – it's lockable, holds 2 boxes of ammo, and I can also put my hunting knife and Leatherman in it.
Soft gun case – You will almost always leave your hard case at the hanger and put your gun in a soft case for the bush flight into camp. When I put my gun in the Tuffpak 1050 Gun Case, I simply put it in the soft case and slip it in like that.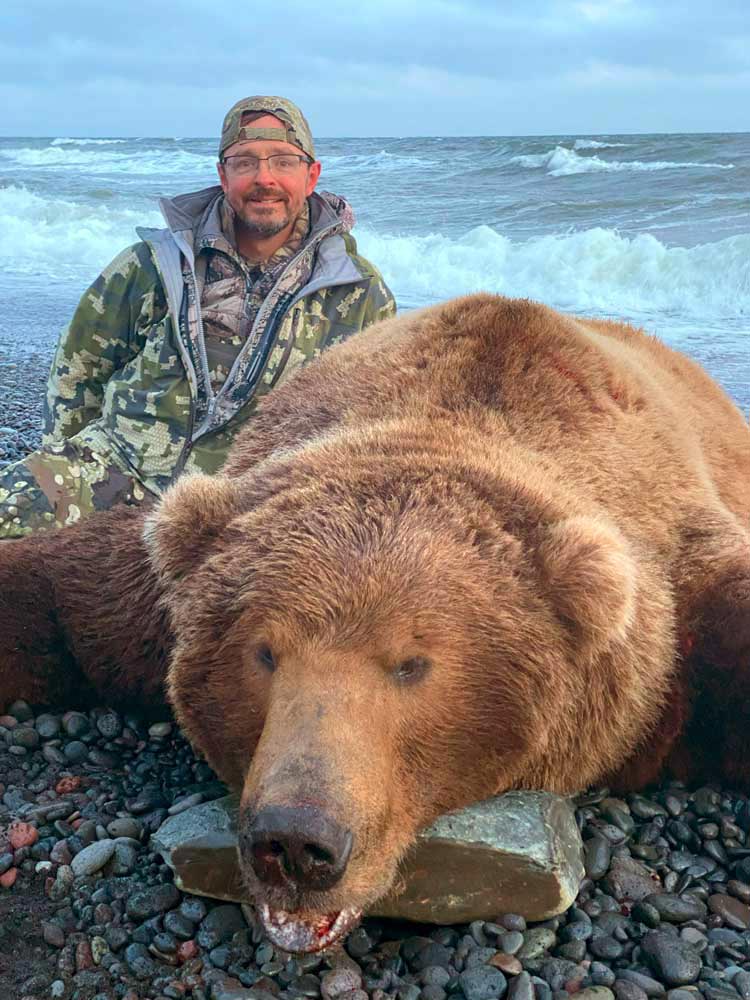 Hunting Optics and Electronics
Binoculars and bino wipes – A good pair of 10×42 binoculars will work great for these hunts. I have a 10×42 Leica. The bino wipes that Kuiu sells for a few bucks that you can attach to your bino harness are handy for cleaning the lenses when they get dirty. Have a good bino harness – it will save on neck/shoulder fatigue and help your binos handy, dry, and clean.
InReach + charging cord. This is important! – This device, from Garmin, is a satellite worldwide texting device, GPS, and has an emergency beacon. These devices are your connection to the outside world, the outfitter, family, and any rescue services needed. They cost about $450 and require a monthly plan. I use the $11.95/month plan most months and up it to a higher plan when I am going to be on a long hunt and texting quite a bit. You can drop your plan or change it monthly with no change fees, so that is a very nice feature. You can use this to text home occasionally. The guides use it to talk to the bush pilot, base camp, or guides in other camps, and you can get weather forecasts on it, etc. It's a must-have, in my opinion. I use the InReach Explorer, but the InReach Mini 2 is also popular. These devices use Bluetooth with your iPhone to make texting even more straightforward and are easy to set up.
Headlamp – fully charged + extra batteries – I use a Fenix HM 60R, which can go up to 1300 lumens. It has 5 light modes and is excellent.
Spare headlamp – Just in case
Spare battery packs and charging cords – If you will be in the field for less than 12 days, battery packs are adequate. Longer than that, it would be best to consider bringing a solar charger. I use battery packs to top off my cell phone, InReach, and headlamp. Be sure to keep your cell phone on airplane mode, as it will chew up the battery if it's not. I generally bring 2 battery packs – both are good for 4-6 phone charges each. Be sure to bring the right cords to connect your battery pack to each device you need to charge.
Camera – Most cell phones take great close-up pictures; sometimes, that's all I bring. But it's nice to have a small pocket waterproof camera with a good zoom lens for taking pictures of animals at a distance, landscapes, etc. It's also nice to have in case you lose your phone (I've had clients lose theirs). Be sure to have extra batteries.
Apple Air Tags – Please note this is important! – Airtags are a tracking device that links up with your iPhone so you can locate where the device is. Think "Find My Friends" for your bags. You can usually buy these in a 4 pack for about $90. I put one in every checked bag I have. With this, I can always track my bags. On one occasion, my gun was supposed to come out on Carousel 1. When it didn't show up, I followed it with the air tag and walked right to Carousel 8, where it was sitting. I also had another time when a cooler of fish and meat was left in Anchorage. When I arrived in Chicago, I saw it was still in Anchorage. I called the baggage handlers, and they got it on the next plane.  These can really help if you have delayed or lost bags in getting them forwarded to you in the quickest manner.  Also, have name/identification tags on every bag you check.    
Hunting Clothes
Simms waders and wading boots, inserts, and extra laces – I once used a cheaper pair of fly-fishing waders on a brown bear hunt, and they split within 3 days at the knees. It was not fun getting soaked every day after that. Invest in a good pair of waders. I use the Simms G3 waders and the Simms wading boots. These waders are excellent. Some guides use them for 3-4 years before they wear out! Waders are ideal when crossing streams, which will happen frequently. They are also handy when hiking as the vegetation can be tall and almost always wet. When sitting to glass for bears, they are perfect to help keep your bottom dry.
Good hiking boots with gaiters – Sometimes you will want hiking boots. I've used Kenetreks for years but recently switched to both Zamberlan and Crispi boots. They have a similar quality to the Kenetreks but almost no break-in period. The bottom line is to get what fits your foot best. I like the Kuiu or Outdoor Research gaiters.
4 pair wool socks
7 base layer hunting shirts and 2 base layer pants/long underwear – Kuiu and Sitka. It's nice to change these out every 1-2 days, and you can wash them as needed. The outer layers you can wear the whole hunt.
Windproof pants, vest and jacket – Sitka or Kuiu, hooded is nice
Backup outer pants, vest and jacket – When your first set gets wet, nice to have and also nice to change into a dry and warm set each evening at camp
Fleece pullover
Rain pants and jacket – this is important! – Rain Gear is one of the most important pieces. Do not skimp here. My experience is that Kuiu is better than all the others for rain gear function and ability to stand up to brush and Alaska conditions.
Spare rain jacket – Throw one in if you have an extra, just in case
Insulated jacket and pants – Kuiu Super Pro-Down. I throw these on when glassing, or it's super cold. They are very light, packable, and will keep you warm.
Lightweight gloves + heavyweight gloves + glassing mitts – The glassing mitts come in handy for long glassing sessions in the cold wind.
Fleece hat – For during the day if it's cold. I also wear mine at night when sleeping.
Neck Gaiter – For those cold, windy days
Ball cap
Footwear for camp – Slides or sneakers, nice to get out of your waders or hiking boots each night
Frame pack with gun holder – I use the Kuiu pack system. There are many other good choices. I like the Kuiu system because I buy the harness and frame and can switch bags out depending on the hunt. You will generally want a bag in the 4,000 to 6,000 cubic inch range for a brown bear hunt. You will carry a first aid kit, water, food, extra clothes, etc. each day. You may also have to help pack the hide and skull out or at least carry the guide's gear out in your pack while he packs it out.
Sweatpants and sweatshirt + t-shirts for sleeping in – After a long day in the field, it's super nice to be comfortable in your dry sleeping bag
Misc Hunting Stuff
Havalon Knife/blades – That's all you need. There is no North American animal that you can't handle with this. Bring lots of extra blades. You will go through lots when skinning and fleshing your bear, assuming you help the guide.
Leatherman tool – You will use it from time to time.
Space blanket – In an emergency.
Water bottles – I carry 2 Nalgene 1-quart bottles in the field – one for water and one for a drink mix. It's also nice to have in the tent. Gross, but in a pinch, when you are stuck in a tent for 3 days due to weather, it can double as a pee bottle. Just don't use it for water after that! The outfitter will normally have filtration; ask if you need to bring a filter. I run a MSR ceramic pump filter, and it's lasted me for years. It screws into the Nalgene bottles.
Dry bags – important! – I normally have 2 checked bags when flying – my gun case and a rolling duffle bag. Sometimes, I can bring the duffle bag on the bush flight; other times, I cannot. Everything I have packed is always in a dry bag. I have several sizes. They are super light. I can throw them in the bush plane. They also stay in my tent, and I always seal them up each day before leaving camp. Tents can leak, rain can flood a tent, etc. It's nice to have the ability to keep things dry!
Powerbars, drink mix, hard candy – This will usually be provided. The main point here is that if you have some favorites, bring them along.
Sleeping bag (rated 0 to -20) and air pad – I like synthetic sleeping bags because they don't weigh much. I have a North Face one. The air pads are a must. I use the ones from Big Agnes. Putting the air pad on your cot is super nice – much more cushion and another insulation layer. Comfortable sleeping means you can hunt harder each day.
Hiking sticks – If you have bad knees, bring them. I use carbon ones from Leki. They fold up and are very light.
Lighter – You can take these on the plane in your carry-on.
Hand warmers – Nice to have a few
Camp books 3 to 4 – In case you get weathered in, you will be glad you have them.
Glassing pad – A light pad to sit on while glassing. Kuiu makes a nice one.
Raincover for glassing – this is important! – Buy a cheap ATV raincover. They weigh about 1 pound. This will allow you to glass all day in bad weather. Sit on it, cover yourself and your pack with just your head sticking out. It can rain and blow all it wants, and you will be comfortable and dry. You can't kill a bear if you are not hunting and glassing.
Duct tape – To put over your gun muzzle, fix leaky tents, etc. I've used some on almost every hunt for something or other.
Game/Meat Care
Gutting gloves – Nitrile gloves. Bring many – bears are greasy, and you will be glad you have them.
Tags and zipties – Label your cape and skull with your info before leaving camp.
Sharpie marker – To write on tags
Trash bags/game bags – For packing the skull and hide back to camp. Contractor trash bags will help keep your pack cleaner – hides are greasy.
Baby wipes – To clean up blood for pictures, clean hands after skinning, use for outhouse.
Personal Clothes and Items
Adjust as needed for your preference – It's nice to have clean clothes for flying home. Jacket, 2 pair jeans, 2 shirts, socks, underwear, sweatshirt, ball cap, footwear, sunglasses
Cell phone + charging cord + waterproof case
Personal toiletries – deodorant, toothbrush, toothpaste, etc
Wallet
Spare roll of toilet paper
Spare eyeglasses – And a case to put them in. The same for contact users – bring extra.
Hand towel – Nice to have to clean your face in the field and wash hands each evening
First aid kit – I carry this in the field as well. Multi-vitamins, aspirin, aleve, sinus medications, diarrhea medicine, fake skin, bandaids and wound care items, ice packs, chapstick, sunblock, nail clippers, lighter, super glue, etc
Journal – I recommend you keep a journal of your hunt. You can dictate into your phone each night. As the days pass, things get mixed up on what happened each day. I do this each night and have a great record of the hunt when it's over. You will appreciate having that for the memories when you are too old to hunt.
Travel
Commercial plane flights are generally an all-day affair. I like to have a book or two, sometimes a few shows or movies loaded on my phone, earbuds, snacks, and a water bottle on the plane with me to make travel more comfortable.
Paperwork
Cash for tip – Plan on a 10% tip as standard; tip more for excellent service. It's common to tip the bush pilot a small tip and always remember the camp cook and other staff. But the guide will get the majority of your tip.
Plane reservations and hotel reservations – Make sure you have these in hand for travel to and from home and your final destination
Trip Insurance – Highly recommended to protect your investment. I generally use Travel Guard or Seven Corners for my personal policies, but several others are out there. Be sure to read what is covered and pick the right plan for your own situation. Given the remote nature of brown bear hunts, I also recommend Rescue Insurance (I use Global Rescue and have an annual plan with them).
Contact info for your family in case of emergency
License, registration permit, locking tag – Make sure you have all your licensing in hand. You will not be able to get licensing once you are in the field. Your outfitter can confirm what you will need.