Looking to cure the winter doldrums? Consider a mountain lion hunt.
I've hunted deer with hounds in Virginia for more than two decades. It's always been fun to see great houndsmen interact with their dogs and get to experience the chase. Based on this, I wanted to see some new country and hunt an animal I had never seen in the wild – this led me to western Colorado in February a few years back for what became a memorable hunt.
Mountain lion hunting is all about the hounds, and they are a true joy to watch work, but the hunter needs to be in shape. This is a physical hunt. Deep snow, driving hundreds of miles on snow machines, riding mules, searching for tracks at 3 am in 15 below zero temperatures, and even getting to a treed cat will test your body.
We put in over 1000 miles on my hunt, searching for tracks. A typical day was up at 2:30 am and searching for tracks starting at 3 am – hoping to cut one before daylight so we could put the dogs on it. After a long day, it is back to the kennel to feed and water the dogs. Sleep will come easy.
Our outfitter works with his dogs year-round and rarely takes a day off during the winter – he is either running mountain lions for clients or hunting bobcats for himself. I was impressed with the care he provided his dogs and how well-trained they were.
My hunt was fantastic. We treed a female on day one while walking a snow-blown ridge with the dogs – they jumped the cat right in front of us and treed it within 200 yards. We got some great videos and pics before we continued on.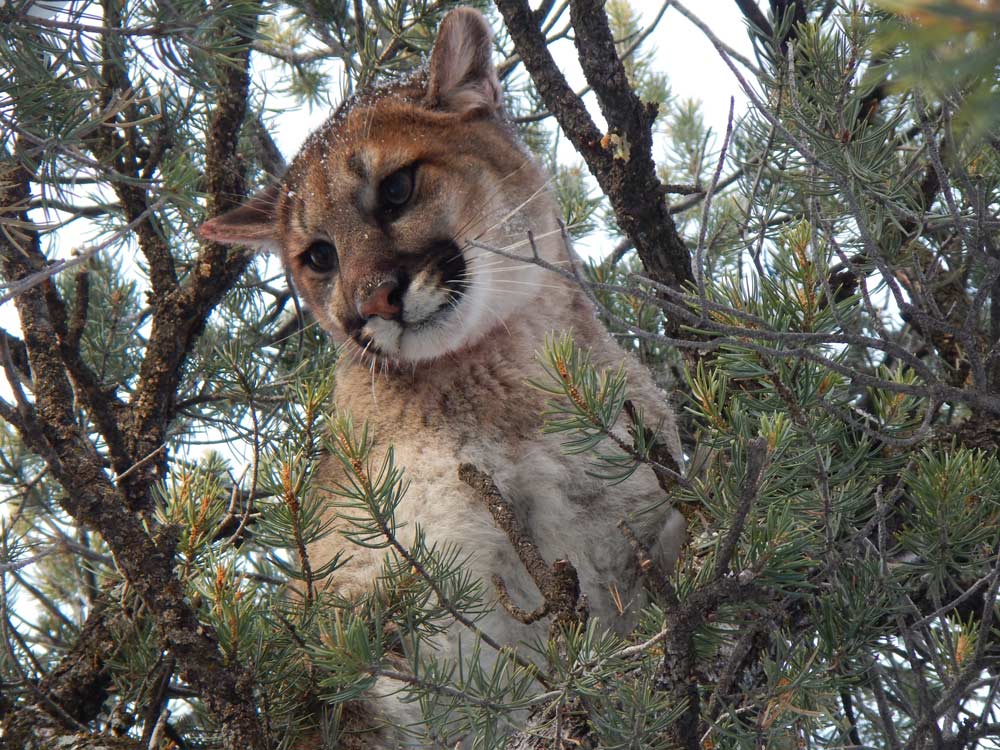 A few days later, we saw a medium track but wanted to let the dogs run it, so we turned them out. They jumped the cat about 400 yards away, and it turned and was heading back in our direction. I got my camera out and got some great video of the cat running right by us (within 15 feet!) before it treed. What a thrill.
Towards the end of the hunt, we found a good track and turned the dogs loose. After a long chase in some high bluffs, the tom finally "treed" in a canyon. It took us almost an hour to get there, and when we did, we saw the cat was holed up on a narrow ledge hanging over a 200-foot drop. After a precarious climb down the snowy cliff, we gathered the dogs up. But we had a problem – the cat was positioned on the narrow ledge.
Had I attempted to shoot the cat with my bow, it would have fallen 200 feet or knocked me off the cliff when it ran by me. So we had a stalemate, and eventually, the tom holed up even further in the cliff, and we had to admit the cat won that chase.
The next day we cut a large track on top of a long bluff. We turned the dogs loose. They worked the track down a break in the cliff to the valley below. From our vantage point, we watched the dogs trail down the valley and swim a river in 10 below zero weather. I couldn't believe how awesome the dogs were.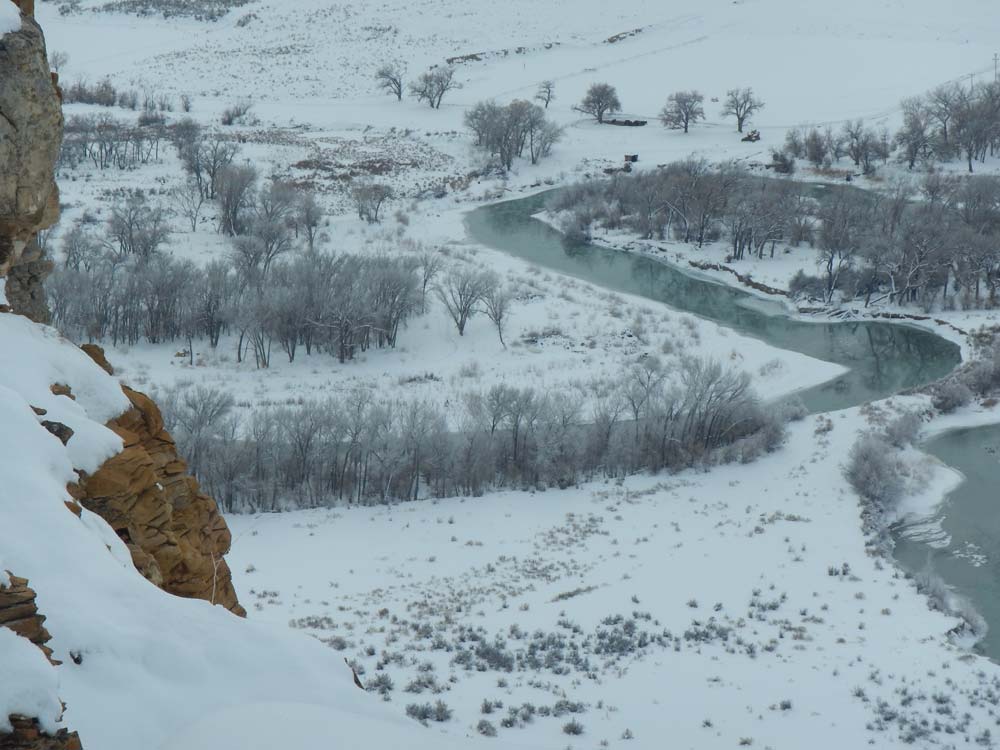 Eventually, they came back across the river and up the only other break in the bluff, near where we started. The bluff was so steep I had to climb down and help the dogs get up top so they could continue. Once they hit the top, they immediately jumped the cat and treed it within a few minutes. Finally, we got to the cat, and it was a beautiful tom. After some video and pictures, I harvested the P&Y cougar with my bow and let the dogs enjoy the fruits of their work.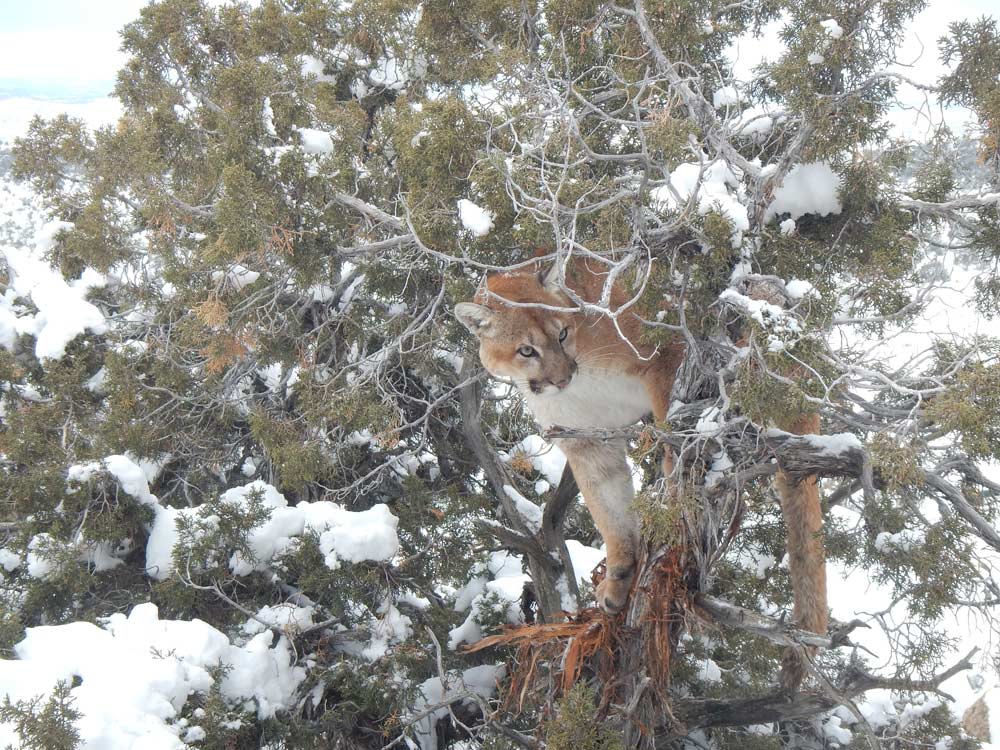 It was a thrilling hunt, and I had many great memories of the country, the dogs, the cougars, and meeting a great houndsman and his crew and family. Also, the meat from mountain lions is very edible. I have enjoyed making ranchero burgers, pulled BBQ, and sweet and sour meatballs from it.
So if you are looking for a winter adventure, trying to complete your North American 29, or just want to experience hunting with hounds, consider an incredible adventure chasing mountain lions.